Check out the latest brand-new edition of The Revcast, the podcast of RevolutionSF.com. We talk about every geek genre with our brand of sci-fi smarty-pants. Do it now. You deserve it.
Subscribe to us and rate us on iTunes. Now you can also hear us on Stitcher. Or use these links.
Red Dwarf! It's a British sci-fi classic about Lister, the last survivor of the human race (conveniently, a lovable slacker. So take that, all you med school overachievers!). He travels through space on the mining ship the Red Dwarf. He has companions Holly, Rimmer and Cat, but you can read about that on Wikipedia.
If you are a true fan, you'll want the Red Dwarf Lexicon, an amazing two volumes covering all that is Red Dwarf. Our host, Deanna Toxopeus sits down with the author of the lexicon, Paul C. Giachetti. Joining them is RevCast regular, Nathan Laws. Together the three have a wide-ranging discussion on the show's premise, themes, characters, notable (and not so notable) espisodes and even how every show has a Cousin Oliver.
Follow Us

The RevolutionSF Roundtable theme music is "20 Minutes of Oxygen" by Darkest of the Hillside Thickets. Find them at thickets.net.
RevolutionSF Roundtable is amongst the Earth Station One network of geeky podcasts. Find more stations for all things geek at ESOPodcast.com.

For our enormous archive of RevolutionSF podcasts, check out Enormous Archive of RevolutionSF Podcasts
Follow the RevolutionSF Revcast cast on Twitter:
Deanna Toxopeus: @ubalstecha / Nathan Laws: @_blogger_who / and our special guest Paul C. Giachetti from Hasslein Books: @HassleinBooks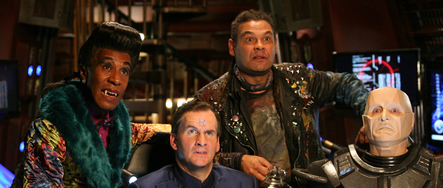 Smeggin' podcast.