Check out the latest brand-new editions of The RevolutionSF Roundtable, the podcast of RevolutionSF.com. We talk about every geek genre with our brand of sci-fi smarty-pants. Subscribe to us and rate us on iTunes or use these links and listen now!

RevNews host Gary Mitchel turns on the nerd signal to gather a host of Batfans to discuss the show about Not-Yet-Commissioner Gordon: Nathan Laws, Christina Janke and RevNews newcomer Mike Nelson! 
They discuss the show's frustrating unevenness; the pure yyeeaaagggghhhhh of Penguin's relationship with his mom; Fish channeling Eartha Kitt; love of Robin Lord Taylor's Penguin; a debate about the Wayne murders as a conspiracy or a random event; Mark and Christina's desk-flipping moments; what Barbara does to the show; too many villains appearing too soon; and Christina takes notes from Fish.
Gary Mitchel calls a gathering of geeks to Podcasting Nanda Parbat to talk all things ARROW: Nathan Laws, Matt Cowger and RevCast Boss-Lady Deanna Toxopeus! 

Listen in as they discuss the first half of season three: Who killed Black Canary I? Was it a Woman in Refrigerator moment? Must Thea's journey into darkness include her belly-shirts? How does Felicity makes the Clark Kent disguise believable? Is Ray Palmer a stalker? Also includes Hong Kong, Not-The-Waller; THE BOXING GLOVE ARROW & Deanna's inner six-year-old; the Starling City side of the Flash/Arrow team-up; and
Ra's Al Ghul & Ollie's literal cliffhanger fight.
Follow Us
RevolutionSF Roundtable theme music is "20 Minutes of Oxygen" by Darkest of the Hillside Thickets. Find them at thickets.net.
For our enormous archive of RevolutionSF podcasts, check out Enormous Archive of RevolutionSF Podcasts
Follow the RevolutionSF Roundtable cast on Twitter:
Gary Mitchel:@gary_mitchel / Deanna Toxopeus: @ubalstecha / Matt Cowger: @kaosdevice / Christina Janke: @introtogeek / Nathan Laws: @blogger_who / and Mike Nelson from trexlight.com.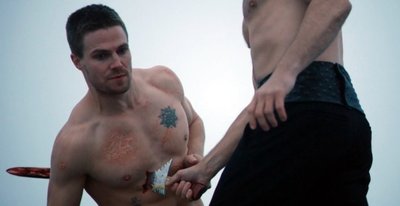 Found your sword in my guts. Txt me back. kthxbai