Check out the latest brand-new editions of The RevCast, the podcast of RevolutionSF.com. We talk about every geek genre with our brand of sci-fi smarty-pants.
Subscribe to us and rate us on iTunes. Now you can also hear us on on Stitcher. Or use these links. Join us now. DO IT.
December 7, 2014 saw the premiere of The Librarians, a television series that sequelizes the similarily named Noah Wyle television movies. Clearly influence by the Indiana Jones movies, this series weaved magic and adventure to create ten episodes that became must see TV for many viewers. Our Podcast Queen, Deanna Toxopeus is joined by Margaret-Anne Park, Michael Bailey and Nathan Laws to discuss the awesomeness that is this the LITs and their Guardian.

This second part of our two parter looks at the individual episodes and the season-long arc that wrapped up in the season fianale. There are predictions and wishes as to where the series will go in season 2.
Follow Us
The RevolutionSF Revcast theme music is "20 Minutes of Oxygen" by Darkest of the Hillside Thickets. Find them at thickets.net.
RevolutionSF's Revcast is amongst the Earth Station One network of geeky podcasts. Find more stations for all things geek at ESOPodcast.com.
For our enormous archive of RevolutionSF podcasts, check out Enormous Archive of RevolutionSF Podcasts
Follow the RevolutionSF Revcast cast on Twitter:
Podcast Queen Deanna: @ubalstecha / Michael Bailey: @baileyspodcasts / Nathan Laws: @_blogger_who /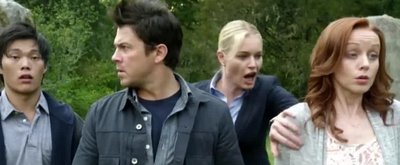 I would arrange these in order of awesomeness, but John Larroquette isn't in the picture and that throws off the algorithm.